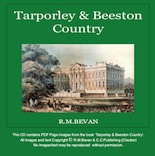 TARPORLEY & BEESTON
COUNTRY CD
£10.00 + £2.00
UK POSTAGE

(R.M.Bevan)

The CD version of the popular book, first published in 2006
Wonderful tales, nostalgia and over 170 illustrations.

The Dones of Utkinton, the Civil War, Tarporley Races, the Oulton Park tragedy.
The King's treasure at Beeston, the Elephant & Castle, Tarporley's lost railway, etc etc.

The CD contains PDF files. You will require Adobe Reader or similar.